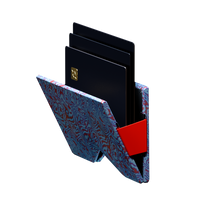 The Bejeti number22 pushes the limits of what humanity can achieve with ingenuity and persistence. Its name is derived from the atomic number of the material of which it is comprised: Titanium. The metal is commonly created when white dwarf stars explode as type Ia supernovae after gorging on a companion star. Pure to its core, this wallet's creation is far from elemental.
The history of Damascus steel dates back a millennium; however, the origin of Titanium Damascus—the material by which all number22s are made—required modern processing techniques to become this iconic wallet.
Each wave, divergence, and contour represent a singular hammer blow from a metalsmith with extraordinary skill in layering, shaping and creating design using varying alloys of the transition metal. The elevated thermal temperatures needed to manipulate such patterns, along with the high yield-strength of the metal, are just some of the characteristics that make this wallet a true homage to the achievement of artisans.
The Bejeti number22 is a wallet refined in function, bespoke in its design, and individual in its expression. It's for those with the desire to celebrate the intersection of art and engineering.

Titanium Damascus - The careful eye will note minute material voids in this product line. These are occurrences from the hand-crafting process, where various metals are forged together in unique artistry. These features highlight the bespoke nature of the Bejeti wallet, one which is not homogenously produced in mass fashion.
4 oz / 113 g
* Comparable to: a deck of cards
Length:
3.4 inches or
86 millimeters
Width:
2.1 inches or
54 millimeters
Thickness:
0.3 inches or
6 millimeters
DESIGNED BY E. SANDE
FORGED WITH PRECISION
Made in the USA